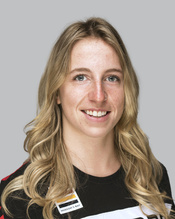 Canadian Olympic silver medalist Laurie Blouin of Stoneham-et-Tewkesbury, Quebec won the gold medal in women's big air snowboarding at the 2019 Winter X Games in Aspen, Colorado on Thursday. Blouin and Zoi Sadowski-Synnott of New Zealand each had a score of 77 points, however when you broke the scores down to the nearest tenth of a point, Blouin had a better score by 0.32 points.
Blouin, who won the silver medal in women's slopestyle snowboarding at the 2018 Olympic Winter Games in Pyeongchang, was competing in her very first Winter X Games event. She reached the podium by 21 points over Enni Rukajarvi of Finland, who finished in fourth place with a score of 56 points. Jamie Anderson of the United States won the bronze medal with a score of 67 points.
Blouin was one of two Canadian women to win a Winter X Games gold medal on Thursday. The other was Canadian Olympic gold medalist Cassie Sharpe of Calgary, Alberta, who won a gold medal in the women's superpipe skiing event.
This was Blouin's most significant win in women's big air snowboarding in her career. Twice in the past Blouin won World Cup women's big air snowboarding medals. The first one was a silver medal in Quebec City on March 24, 2018 and the second one was a bronze medal in Beijing, China on November 24, 2018. Blouin will be a strong medal contender for Canada in women's slopestyle and big air snowboarding at the 2022 Olympic Winter Games in Beijing.