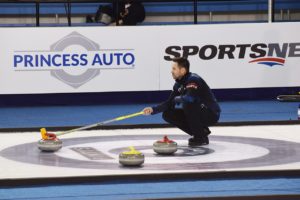 The winners have been determined for the 2019 Canada Cup of Curling. Rachel Homan of Ottawa, Ontario won the women's event and John Epping of Peterborough, Ontario won the men's event from Leduc, Alberta on Sunday.
In the women's final, Homan defeated Tracy Fleury of East St. Paul, Manitoba 9-4. With the game tied at one point apiece, Homan's team blew the game wide open in the third end by scoring four points to take a 5-1 lead. Fleury had advanced to the Canada Cup Final with a decisive win herself. In the semifinal on Saturday, Fleury defeated Chelsea Carey of Calgary, Alberta, by the exact same score of 9-4.
In the men's final, Epping defeated Kevin Koe of Calgary, Alberta, 7-4 in the final. It was a masterful game for Epping as he picked up three points in the fourth end, stole a point in the seventh end and then had two rather unexpected points in the ninth end to put his team up by three points. In the ninth, Koe was unable to remove an Epping stone with his final shot, which allowed Epping to pick up the deuce, and take complete control of the match.
Epping reached the final with a convincing 12-4 win over Brendan Bottcher of Edmonton, Alberta in the semifinal. In the eight point Epping win, Epping picked up four points in the third end and and then stole four points in the fourth end when Bottcher came up light with his final rock.
By winning the Canada Cup, Epping and Homan have qualified for the 2021 Canadian Olympic Curling Trials in Saskatoon, Saskatchewan. The winner of the trials will represent Canada at the 2022 Olympic Winter Games in Beijing.