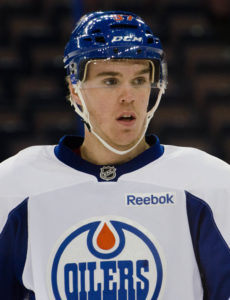 Edmonton Oilers centre Connor McDavid of Richmond Hill, Ontario was named the National Hockey League's first star of the month for November. In 14 games, McDavid had 13 goals and 13 assists for a NHL leading 26 points. According to oilersnation.com, McDavid's 13 November goals also led the NHL.
In addition to his 26 points, McDavid had two hat tricks, six power play goals, 11 power play points, 53 shots on net, five hits, five blocked shots and 38 faceoff wins. McDavid registered his hat tricks in a 6-2 Oilers win over the Anaheim Ducks on November 10 and in a 6-2 Oilers win over the Colorado Avalanche on November 14. Colorado Avalanche centre Nathan MacKinnon of Halifax, Nova Scotia was the NHL second star of the month for November and Chicago Blackhawks right winger Patrick Kane was the NHL third star of the month for November.
According to Hockey Reference, this has been the fourth consecutive season that McDavid has received the honour of being the first star of the month. He was also the first star in October of 2016, March of 2018 and March of 2019.
So far in 2019-20, McDavid leads the NHL with 32 assists and 51 points. Interestingly, McDavid is actually tied for the NHL lead in assists with Oilers centre Leon Draisaitl. In 29 games, McDavid also has 19 goals, is a +5 with 16 penaty minutes, 22 power play points, two game winning goals, 97 shots on goal, 110 faceoff wins, 10 blocked shots, 14 hits, 23 takeaways and 31 giveaways.
The Oilers meanwhile lead the Pacific Division with 37 points. With a record of 17 wins, nine regulation losses and three losses in extra time, they have three more points than the second place Arizona Coyotes.