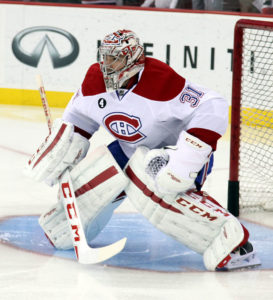 Canadian Olympic gold medalist Carey Price of Vancouver, British Columbia recorded his fourth shutout of the 2018-19 National Hockey League regular season on Thursday as the Montreal Canadiens defeated the New York Islanders 4-0 at the Bell Centre in Montreal, Quebec.
Price made 10 saves in the first period, 10 saves in the second period and eight saves in the third period for 28 saves overall. He improved his record on the season to 31 wins, 22 regulation losses, five losses in extra time, a goals against average of 2.50 and a save percentage of .917. Price's other three shutouts this season came in a 3-0 win over the Boston Bruins on October 27, 2018, in a 2-0 win over the Vancouver Canucks on January 3, 2019 and in a 3-0 win over the Colorado Avalanche on January 12, 2019.
In the Canadiens win over the Islanders, two Canadians had a multi-point game. Jordan Weal of Vancouver, British Columbia and Jonathan Drouin of Ste-Agathe, Quebec each had one goal and one assist for two points. Meanwhile, Canadian Olympic gold medalist Shea Weber of Sicamous, British Columbia also scored for the Canadiens. Weber won a gold medal for the Canadiens at the 2010 Olympic Winter Games in Vancouver and the 2014 Olympic Winter Games in Sochi, while Price won a gold medal for Canada at the 2014 Olympic Winter Games in Sochi.
The Canadiens are in fourth place in the Atlantic Division with 85 points. Thanks to the Edmonton Oilers' 4-1 win over the Columbus Blue Jackets on Thursday, Montreal leads Columbus by one point for the final playoff spot in the Eastern Conference.