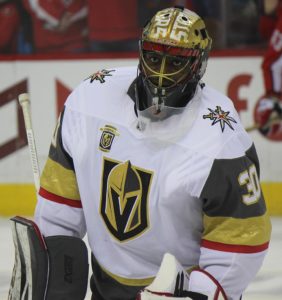 Malcolm Subban of Toronto, Ontario recorded his first career National Hockey League shutout on Thursday. Subban made 20 saves as the Vegas Golden Knights beat the Winnipeg Jets 5-0 at the T-Mobile Arena in Las Vegas, Nevada.
Subban made 10 saves in the first period, six saves in the second period and four saves in the third period. The former Boston Bruins first round draft pick improved his 2018-19 NHL regular season record to seven wins, seven regulation losses, a goals against average of 2.89 and a save percentage of .906. It an interesting statistic, Subban is 5-0 in games at home this season, but only 2-7 in nine games on the road.
In the Golden Knights win over the Jets, Reilly Smith of Toronto, Ontario had a multi-point game as he scored two goals. Nick Holden of St. Albert, Alberta also had a multi-point game as he had two assists.
Even though the Golden Knights have not yet clinched a playoff spot, they are comfortably in a playoff position in the Western Conference. While in third place in the Pacific Division, the Golden Knights are at 89 points, and are 11 points up on the Arizona Coyotes for a playoff spot. Time will tell whether or not the Golden Knights will reach the Stanley Cup Finals for the second straight year, but at the present time, it is clear that Vegas is in the conversation as a serious contender.