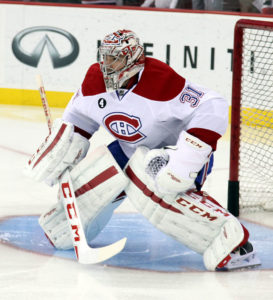 The Montreal Canadiens are off to a marvelous start to begin the 2018-19 National Hockey League regular season. After their first 10 games, they have a record of six wins, two regulation losses and two losses in extra time.
A major reason why Montreal is playing with confidence at the moment has been because of stellar goaltending from Canadian Olympic gold medalist Carey Price of Vancouver, British Columbia. In Price's first seven games, he has a record of four wins, one regulation loss and two losses in extra time. His latest win came on Saturday night as he shutout the Boston Bruins 3-0 at the Toronto Dominion Garden in Boston.  Price made 33 saves for the 41st shutout of his NHL career.
Price has also delivered victories this season over the Pittsburgh Penguins, St. Louis Blues and Calgary Flames. In all four of Montreal's wins with Price in net, the Canadiens were an underdog in heading into the regular season. In fact, the Canadiens, and Ottawa Senators were considered by many to be two of the weakest teams in the Eastern Conference. (Especially when you consider the fact the Canadiens lost captain Max Pacioretty in the offseason and the Senators lost their captain Erik Karlsson).
Like the Canadiens, the Senators have been very respectable. They are 4-4-2 after 10 games.
The NHL regular season is grueling and mind-taxing. However after a short sample size to begin the 2018-19 NHL regular season, the Canadiens are giving Habs fans something to be a little optimistic about. Only a year ago, the Canadiens had 71 points, the fewest number of points the team has had since they recorded 70 points in the 2000-01 season.