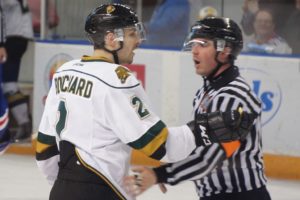 Evan Bouchard of Oakville, Ontario made Edmonton Oilers history on Thursday in their impressive 4-1 win over the reigning Stanley Cup champion, Washington Capitals. Bouchard became the youngest Oilers defenseman to ever score a goal in a National Hockey League regular season game.
Bouchard set the record at 19 years and five days old. The old record belonged to Chris Joseph of Burnaby, British Columbia, who was 19 years and 39 days old when he scored for the Oilers in a 8-6 Edmonton win over the Los Angeles Kings on October 19, 1988. Interestingly, that game will also be remembered as the first game that hockey legend Wayne Gretzky played against the Oilers.
Bouchard opened the scoring on Thursday at 16:28 of the first period on the power play from Kailer Yamamoto and Tobias Rieder. He is one of two Oiler defensemen to have scored a goal this season. The other is Darnell Nurse of Hamilton, Ontario, who scored the overtime winner in a 5-4 win over the Winnipeg Jets on October 16.
The Oilers have got off to a very respectable start of 4-3-1 to start the season, considering that they have had a very difficult schedule. It will remain challenging for the next couple of weeks, and then get a little easier starting mid-November,