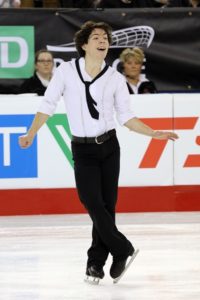 Keegan Messing of Sherwood Park, Alberta won the silver medal on Saturday in men's figure skating at the  2018 Skate Canada International in Laval, Quebec. It is the first Grand Prix medal of Messing's career.
Messing posted a score of 265.17 points. Shoma Uno of Japan won the gold medal with 277.25 points. Junwhan Cha of South Korea won the bronze medal with a score of 254.77 points.
Messing reached the podium by 16.39 points. Alexander Samarin of Russia finished in fourth place with 248.78 points.
Messing's medal was one of three medals won by Canadians this past weekend in Laval. In pairs figure skating, Kristen Moore-Towers of St. Catharines, Ontario and Michael Marinaro of Sarnia, Ontario won the bronze medal and in ice dancing, Piper Gilles of Scarborough, Ontario and Paul Poirier of Ottawa, Ontario, won the bronze medal.
In the pairs, Moore-Towers and Marinaro posted a score of 200.93 points. Vanessa James and Morgan Cipres of France won the gold medal with a score of 221.81 points. Cheng Peng and Yang Jin of China won the silver medal with 201.08 points. Moore-Towers and Marinaro reached the podium by 4.39 points over the rising Russian teenager team of Aleksandra Boikova and Dmitrii Kozlovskii.
In ice dancing, Gilles and Poirier had a score of 186.97 points. Madison Hubbell and Zachary Donohue of the United States won gold with a score of 200.76 points. Victoria Sinitsina and Nikita Katsalapov of Russia won the silver medal with a score of 195.17 points. Gilles and Poirier reached the podium by 6.65 points over Marie-Jade Lauriault and Romain Le Gac of France. It was an impressive comeback for Gilles and Poirier, who were sixth after the rhythm dance.