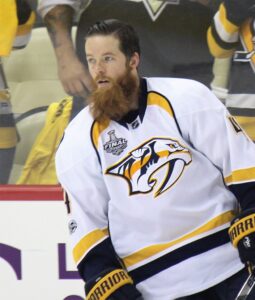 The Nashville Predators once again have traded a high-profile Canadian defenseman. This time it is Ryan Ellis of Hamilton, Ontario. Ellis was traded from the Predators to the Philadelphia Flyers for center Nolan Patrick of Winnipeg, Manitoba, and defenseman Philippe Myers of Moncton, New Brunswick on Saturday according to Jordan Hall of NBC Sports Philadelphia. Then moments later, the Predators traded Patrick to the Vegas Golden Knights for fellow Winnipeg native and center, Cody Glass.
Ellis will be joining his second NHL team. He has previously played 10 seasons with the Predators from 2011 to 2021. In 2020-21, Ellis had five goals and 13 assists for 18 points in 35 games. He was a +1 with 10 penalty minutes, four power-play points, 75 shots on goal, 63 blocked shots, 21 hits, seven takeaways, and 22 giveaways.
Myers had one goal and 10 assists for 11 points in 44 games last season for the Flyers. He was a -10, with 22 penalty minutes, 77 shots on goal, 40 blocked shots, 69 hits, 19 takeaways, and 27 giveaways.
Patrick had a horrendous season offensively and defensively for the Flyers. He only had four goals and five assists for nine points, and was an awful -30. Clearly, more was expected of Patrick when he was selected second overall by the Flyers in the 2017 NHL Entry Draft.
Glass meanwhile had four goals and six assists for 10 points in 27 games last season for Vegas. He was a +6, with five power-play points, 28 shots on goal, 110 faceoff wins, nine blocked shots, 10 hits, 11 takeaways, and six giveaways.
Ellis meanwhile is one of three high-profile Canadian defensemen that have been traded by the Predators in their franchise history. The others are Canadian Olympic gold medalists P.K. Subban of Toronto, Ontario, and Shea Weber of Sicamous, British Columbia. Ironically, Subban was traded from Montreal to Nashville for Weber on June 29, 2016. Subban was then traded from the Predators to the New Jersey Devils with left-winger Adam Helewka of Burnaby, British Columbia, for defenseman Steven Santini, prospect Jeremy Davies of Sainte-Anne-de-Bellevue, Quebec, and the second-round draft picks in the 2019 and 2020 NHL Entry Drafts. Subban and Weber each won a gold medal for Canada at the 2014 Olympic Winter Games in Sochi, while Weber also won a gold medal for Canada at the 2010 Olympic Winter Games in Vancouver.