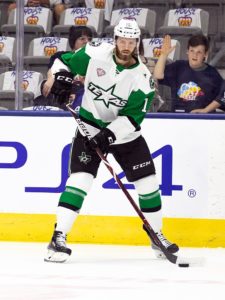 According to Rogers Sportsnet on Saturday, the Dallas Stars have traded center Jason Dickinson of Georgetown, Ontario to the Vancouver Canucks for a third-round draft pick in the 2021 National Hockey League Entry Draft. The Canucks are sending the 73rd pick in the 2021 NHL Draft to the Stars.
The Canucks will be the second team that Dickinson has played for in the NHL. He previously played the last six seasons with the Stars.
In 2020-21, Dickinson had seven goals and eight assists for 15 points in 51 games. He was a -2 with 18 penalty minutes, two game-winning goals, one power-play point, 66 shots on goal, 137 faceoff wins, 49 blocked shots, 78 hits, 28 takeaways, and 17 giveaways. Dickinson's game-winning goals came in a 2-1 Stars win over the Detroit Red Wings on January 26, and in a 5-0 Stars win over the Columbus Blue Jackets on March 6. Interestingly, Dickinson's power-play point was his first point of the season. It was a power-play assist on a goal by Joel Kiviranta in a 7-0 Stars win over the Nashville Predators on January 22.
Dickinson had one multi-point game this past year. He had two assists in a 5-2 Stars win over the Detroit Red Wings on April 20. In 221 career games with the Stars, Dickinson had 25 goals and 38 assists for 63 points. Originally the first-round draft pick (29th overall) by the Stars in the 2013 NHL Entry Draft, Dickinson played his junior hockey with the Guelph Storm of the Ontario Hockey League.