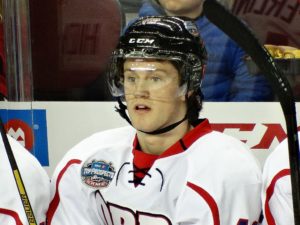 According to Luke Fox of Rogers Sportsnet on Saturday, the Toronto Maple Leafs acquired left-winger Jared McCann of Stratford, Ontario from the Pittsburgh Penguins for Filip Hallander and a seventh-round draft pick in the 2023 National Hockey League Entry Draft. The Maple Leafs become McCann's fourth NHL team as he has also played with the Vancouver Canucks and Florida Panthers in addition to the Penguins.
Last season in Pittsburgh, McCann scored 14 goals and had 18 assists for 32 points in 43 games. He was an effective +17 with eight penalty minutes, 10 power-play points, three game-winning goals, 93 shots on goal, 56 faceoff wins, 17 blocked shots, 40 hits, 21 takeaways, and 14 giveaways. McCann's game-winning goals came in a 4-3 Penguins win over the Philadelphia Flyers on March 6, in a 2-1 Penguins win over the New York Islanders on March 29, and in an 8-4 Penguins win over the Buffalo Sabres on May 6. In the Penguins' win over the Flyers on March 6, McCann scored the overtime winner from Brandon Tanev of Toronto, Ontario, and Evgeni Malkin.
McCann was initially the Canucks's first-round draft pick, 24th overall, in the 2014 NHL Entry Draft. He played his junior hockey with the Sault. Ste. Marie Greyhounds of the Ontario Hockey League. Hallander meanwhile returns to the Penguins' organization after initially being drafted by Pittsburgh in 2018.