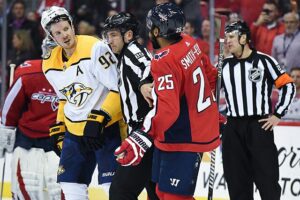 The Nashville Predators have traded center Ryan Johansen of Vancouver, British Columbia to the Colorado Avalanche for center Alex Galchenyuk according to Colton Davies of Daily Faceoff on Saturday. The Avalanche become the third team Johansen played for following five seasons with the Columbus Blue Jackets from 2011 to 2016, and eight seasons with the Nashville Predators from 2015 to 2023.
In 2022-23, Johansen had 12 goals and 16 assists for 28 points in 55 games. He was a -13 with 32 penalty minutes, 10 power-play points, one game-winning goal, 86 shots on goal, 502 faceoff wins, 19 blocked shots, 49 hits, 20 takeaways and 21 giveaways. Johansen's game-winning goal this past season came in a 4-3 Predators win over the New Jersey Devils on December 1, 2022. Canadian Olympic gold medalist Matt Duchene of Haliburton, Ontario picked up the lone assist at the 33 second mark off the extra period. Duchene won a gold medal for Canada at the 2014 Olympic Winter Games in Sochi.
Johansen had signed an eight-year deal worth $64 million with the Predators in 2017. He had 362 points in 533 games with Nashville after 193 points in 309 games with Columbus.
The Avalanche were in need for another forward in the lineup after it was reported that their captain, Gabriel Landeskog, would miss the 2023-24 National Hockey League regular season with a knee injury. Galchenyuk has played with three Canadian teams in the past (the Montreal Canadiens, Toronto Maple Leafs and Ottawa Senators). Last season he did not have a point for Colorado in 11 games.