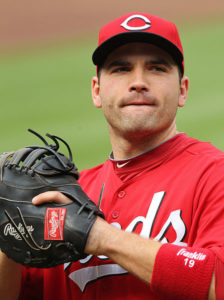 Cincinnati Reds first baseman Joey Votto of Toronto, Ontario recorded his 19th multi home run game of his career on Friday. He hit a solo shot in the fourth inning and another three-run home run in the fifth inning in an 11-10 Reds win over the Atlanta Braves. With the win, the Reds have now won 12 straight games and lead the National League Central by a game and a half over the Milwaukee Brewers.
Of Votto's 19 multi-home run games, 14 have come in Reds wins. Three times, Votto has had three home runs in a game in a Reds win.
This was Votto's fourth game of the season after missing most of the first three months after undergoing rotator cuff and biceps surgery. In four games, 16 plate appearances, and 13 at bats, Votto has three home runs and seven runs batted in for a batting average of .308. He also has scored four runs, and had four hits, one walk, 13 total bases, an on base percentage of .438, and a slugging percentage of 1.000.
Votto is second all-time in Reds franchise history in home runs with 345. Only Johnny Bench has more with 389 home runs.
It was a magical night for the Reds for another reason on Friday. That is because Reds rookie Elly De La Cruz hit for the cycle.