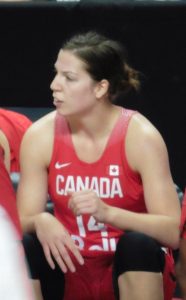 Team Canada finished in third place at the 2023 FIBA Women's World Series in Orleans, France on Saturday. The Canadian team was comprised of Kacie Bosch of Lethbridge, Alberta, Paige Crozon of Humboldt, Saskatchewan, as well as twin sisters Katherine and Michelle Plouffe of Edmonton, Alberta.
Team Canada won Pool A after a 21-17 win over Azerbaijan, and then a 17-9 win over Italy on Friday. In Canada's win over Azerbaijan, Michelle Plouffe led Canada with eight points and three rebounds. Crozon led Canada with two key assists. In Canada's win over Italy, Michelle Plouffe led Canada with eight points. Katherine Plouffe led Canada with seven rebounds and six key assists.
In the quarterfinal game on Saturday, Canada defeated China 20-18 in overtime. It was the first game of the day. Katherine Plouffe had a very impressive double double as she had 11 rebounds and 10 points. Remember, in 3×3 basketball, you only get one point for a basket inside the paint. Both Michelle and Katherine Plouffe had three key assists each.
In the other semifinal game, the United States beat France 20-14. In the gold medal game, Spain beat the United States 17-14. The third place finish in Orleans will give Canada confidence as they prepare for the 2024 Olympic Games in Paris.