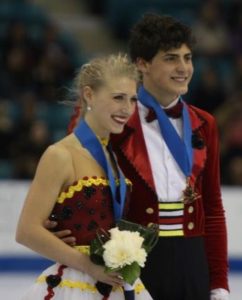 Piper Gilles and Paul Poirier of Ottawa, Ontario have won their second medal in a Grand Prix event during the 2021-22 International Skating Union Grand Prix figure skating season on Saturday. After winning the gold medal in Skate Canada last month in Vancouver, British Columbia, Gilles and Poirier won the silver medal at the Internationaux de France in Grenoble.
Gilles and Poirier posted a second place score of 203.16 points. Gabriella Papadakis and Guillaume Cizeron of France won the gold medal with a score of 221.25 points. Alexandra Stepanova and Ivan Bukin of Russia won the bronze medal with a score of 200.29 points.
Gilles and Poirier reached the podium very comfortably. They had 27.22 more points than fourth-place finishers Evgeniia Lopareva and Geoffrey Brissard of France, who had a score of 175.94 points.
In the rhythm dance on Friday, Gilles and Poirier performed to Elton John, and had a score of 81.35 points. In the original dance, Gilles and Poirier had a score of 121.81 points.
Heading into the 2022 Olympic Winter Games in Beijing, Gilles and Poirier are definite Olympic medal contenders. Right now it is fair to say that Papadakis and Cizeron are the clear gold medal favourites. They won the gold medal on the weekend even though they had a significant error in the original dance when it came to their twizzles.