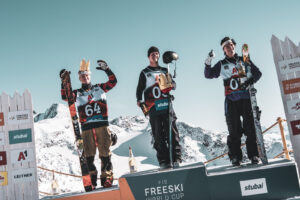 Max Moffatt of Guelph, Ontario won a silver medal on Saturday in a World Cup men's slopestyle skiing event in Stubai, Austria. Moffatt posted a score of 86.26 points for his second World Cup career medal.
Moffatt placed behind gold medalist Birk Ruud of Norway, who had 87.6 points. Meanwhile, Ferdinand Dahl of Norway won the bronze medal with 86.06 points. Moffatt reached the podium by 2.52 points over Hunter Henderson of the United States, who had 83.74 points.
This was the first World Cup men's slopestyle skiing event of the 2021-22 International Ski Federation season. There are six World Cup events throughout the season, with three events happening before the 2022 Olympic Winter Games in Beijing. The other two events are in Mammoth, California on January 8, and in Font Romeu, France on January 16.
Moffatt's first career World Cup medal was on January 27, 2019. Moffatt posted a total of 83.1 points to win the gold medal in Seiser Alm, Italy. It should be noted in Moffatt's gold medal performance in Italy, he had 3.16 fewer points than he had in Austria on Saturday.
Moffatt is the second Canadian to win a World Cup medal in freestyle skiing this season. The first is Teal Harle of Campbell River, British Columbia, who also won a silver medal in a men's big air freestyle skiing event in Chur, Switzerland on October 22. The silver medal for Moffatt will give him confidence as he prepares for the 2022 Olympic Winter Games in Beijing.