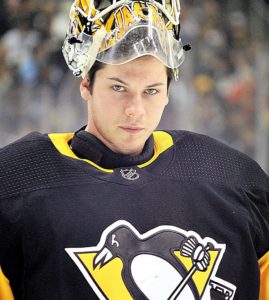 Tristan Jarry of Surrey, British Columbia recorded his ninth National Hockey League shutout on Saturday as the Pittsburgh Penguins defeated the Toronto Maple Leafs 2-0. For Jarry, it was his second shutout not only of the 2021-22 NHL regular season, but second shutout of the week. On Thursday, Jarry made 24 saves in a 6-0 Penguins win over the Montreal Canadiens.
On Saturday, Jarry made 26 saves. He made seven saves in the first period, 10 saves in the second period, and nine saves in the third period. Auston Matthews led the Maple Leafs with five shots on goal.
Canadian Olympic gold medalist Jeff Carter of London, Ontario was one of two Maple Leafs to score for Pittsburgh on Saturday. The other was Jake Guentzel. For Carter, who won a gold medal for Canada at the 2014 Olympic Winter Games in Sochi, it was his fourth goal of the season and 403rd goal of his National Hockey League career. Of his 403 career goals, 13 have now come with the Penguins.
So far this season, Jarry has a record of seven wins, four regulation losses, and three losses in extra time. He has a goals against average of 2.17, and a save percentage of .927.
With the win, the Penguins improved to a record of seven wins, six regulation losses, and four losses in extra time for 18 points. They trail the Philadelphia Flyers and New Jersey Devils by one point in the Eastern Conference for a playoff spot.