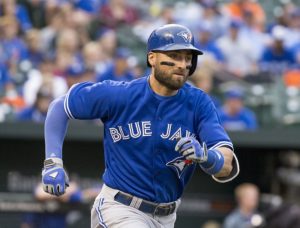 Kevin Pillar of the Toronto Blue Jays  made franchise history on Saturday. In the Jays' 5-3 win over the New York Yankees at the Rogers Centre (their first win of the 2017 Major League Baseball schedule), Pillar became the first Blue Jays player ever to steal three stolen bases in the same inning.
Pillar stole second, third and home in the eighth inning to put the Blue Jays up 5-3 at the time. Aaron Hill was the last Blue Jays player to steal home in a game. He accomplished the feat in a 3-2 Blue Jays win over the New York Yankees on May 29, 2007.
All three stolen bases came off of Yankees relief pitcher Dellin Betances, who also gave up the game winning home run to Blue Jays third baseman Yangervis Solarte earlier in the inning to put the Blue Jays up 4-3 at the time. What was remarkable about Pillar's final stolen base of home is that he did so standing up as Betances's throw to home was wide and off the mark.
The Blue Jays then split the four game series against the Yankees on Sunday with a 7-4 win. Pillar has got off to a great start. He is batting .462 with six hits in 13 at bats. He also has a double, home run, on base percentage of .500 and a slugging percentage of .769 to begin 2018.