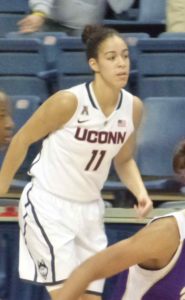 Kia Nurse of Hamilton, Ontario was named the 2018 NCAA defensive player of the year for women's basketball on Friday. The Canadian Olympian had 2.6 defensive rebounds per game, 1.3 steals per game and 0.4 blocks per game.
With Nurse leading the University of Connecticut Huskies attack, the Huskies gave up the fifth fewest points in the NCAA this season at only 53.4 points. The only teams in the NCAA that gave up fewer points than the Huskies were the University of Wisconsin-Green Bay Phoenix (47.4 points per game), the University of Central Arkansas Sugar Bears (50.9 points per game), the Campbell University Lady Camels (51.9 points per game) and the Radford University Highlanders (52.9 points per game). However one must realize that the University of Connecticut had a much more difficult schedule than the four aforementioned teams as they are traditionally one of the top schools in NCAA Women's Basketball on an annual basis.
However even though the Huskies were undefeated heading into their Final Four contest on Friday night against Notre Dame, they lost 91-89 in overtime. Nurse was limited to 10 points, five rebounds and two assists in what was her final game of her career with the University of Connecticut. Notre Dame meanwhile will play Mississippi State in the NCAA Women's Basketball Championship game on Sunday. Mississippi State also needed overtime to win their semi-final game as they beat Louisville 73-63.
It will now be interesting to see if Nurse will play in the WNBA. The 2020 Olympic Games in Tokyo will also probably be on Nurse's radar screen.