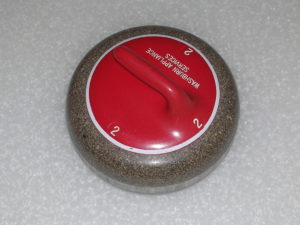 Laura Crocker of Edmonton, Alberta and Kirk Muyres of St. Gregor, Saskatchewan have won the 2018 Canadian Mixed Doubles Curling Championship.On Sunday, Crocker and Muyres defeated Kadriana Sahaidak and Colton Lott of Gimli, Manitoba 8-7 in the championship final in Leduc, Alberta. Crocker and Muyres will now represent Canada at the 2018 World Mixed Doubles Curling Championship in Ostersund, Sweden from April 21-28.
Crocker and Muyres went through pool play with a single loss. They were beaten by the Quebec father-daughter duo of Robert and Emilie Desjardins 9-7. In the quarterfinals, Crocker and Muyres beat the high-profile duo of Jennifer Jones and Brent Laing 7-3.  They then beat the defending champion of Joanne Courtney and Reid Carruthers 9-4 in the semi-finals.
In the finals, Crocker and Muyres picked up a deuce in the eighth end to win the national championship after giving up three points in the seventh end to Sahaidak and Lott. It was Sahaidak and Lott's only loss in the tournament after they went through pool play undefeated.
Crocker chose Muyres to play with her after her fiancee, Geoff Walker was unavailable because he is representing Canada at the 2018 World Men's Curling Championship in Las Vegas. Crocker and Walker played extremely well together at the 2017 Canadian Mixed Doubles Olympic Curling Trials in Portage La Prairie, Manitoba before being eliminated by Jill Officer and Carruthers.