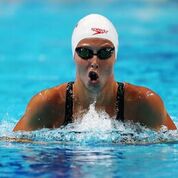 Sydney Pickrem of Clearwater, British Columbia won the bronze medal on Sunday in the women's 400m individual medley at the 2017 World Aquatics Championships in Budapest, Hungary.  Pickrem becomes the second Canadian swimmer to win an individual swimming medal at the World Aquatics Championships as she was joined by Kylie Masse of LaSalle, Ontario, who won the gold medal in the women's 100m backstroke on Tuesday.
Pickrem posted a bronze medal time of 4:32.88. She reached a podium spot by 1.62 seconds over Yui Ohashi of Japan who finished in fourth place with a time of 4:34.50.
Where Pickrem was the most impressive was in the breaststroke. During the breaststroke stage, Pickrem was by far the best swimmer as she posted a time of one minute, 16.17 seconds.
Katinka Hosszu of Hungary won the gold medal with a time of 4:29.33, a World Aquatics Championships record. Hosszu broke her own World Championship record time that she set at the 2009 World Aquatics Championships in Rome when she swam in 4:30.31. Mireia Belmonte of Spain won the silver medal with a time of 4:32.17.
Pickrem also rebounded very well after a disappointing women's 200m individual medley final for her on July 24. Pickrem had to pull out after the first 50m of the butterfly after swallowing too much water. The bronze medal for Pickrem in the women's 400m individual medley final will give her significant confidence as she prepares for the 2020 Olympic Games in Tokyo.