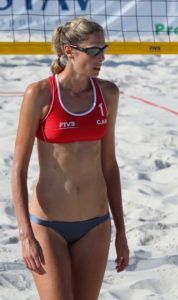 Canadian Olympians Sarah Pavan of Kitchener, Ontario and Heather Bansley of London, Ontario were teammates in women's beach volleyball at the 2016 Olympic Games in Rio de Janeiro. Considered the top team in Canada, they went through Pool E with a perfect record of three wins and zero losses before beating the team of Jamie Broder of Victoria, British Columbia and Kristina Valjas (now May) of Toronto, Ontario in an all-Canadian round of 16 matchup and then losing to Germany in the quarterfinals.
Pavan and Bansley then announced that they were separating their partnership at the end of last season. Now one could argue that they are better apart than together. Pavan is now with Melissa Humana-Paredes of Toronto and Bansley is now with Brandie Wilkerson of Toronto.
Both Pavan and Humana-Paredes along with Bansley and Wilkerson are in the quarterfinals of the 2017 Women's World Beach Volleyball Championships in Vienna, Austria. Pavan and Humana-Paredes had a very impressive straight set win over Fernanda Alves and reigning Olympic silver medalist Barbara Seixas of Brazil 21-16, 21-10 in the round of 32 and then a 21-17, 23-21 win over Nina Betschart and Tanja Huberli of Switzerland in the round of 16.
Wilkerson and Bansley meanwhile beat Karla Borger and Margareta Kozuch of Germany 21-16, 21-19 in the round of 32 and then Lidiannis Echeverria and Leila Martinez of Cuba 21-19, 16-21, 17-15 in the round of 16. Pavan and Humana-Paredes will now play Chantal Laboureur and Julia Sude of Germany in the quarterfinals and Wilkerson and Bansley will now play April Ross and Lauren Fendrick of the United States in the quarterfinals. Keep in mind that no Canadians have ever won a medal in the history of the Beach Volleyball World Championships. The outstanding showings in Vienna will give Wilkerson, Bansley, Pavan and Humana-Paredes confidence as they prepare for the 2020 Olympic Games in Tokyo.