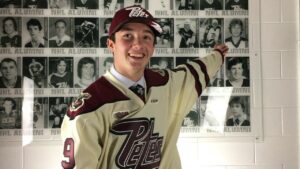 The Peterborough Petes are in the 2023 Memorial Cup semifinals. On Thursday, the Petes defeated the Kamloops Blazers 5-4 in overtime in the tiebreaker game from Kamloops, British Columbia. The Petes had the game-winning goal from Jon-Randall Avon of Peterborough, Ontario at the 10:54 mark of the extra period. Owen Beck of Peterborough had the lone assist.
Avon has a strong family connection to the hockey world. His stepfather is former Chicago Blackhawks and New York Rangers forward Steve Larmer of Peterborough. Larmer had 441 goals and 571 assists for 1012 points in 1006 NHL regular season games, and won the Stanley Cup with the Rangers in 1994.
Avon, a left winger, was also one of three Petes players with a multi-point game. He had one goal and one assist for two points. The others were right winger Connor Lockhart of Kanata, Ontario (one goal and one assist), and center Jax Dubois of Ottawa, Ontario (two assists). Lockhart already has a British Columbia connection as he was a sixth round pick, 178th overall by the Vancouver Canucks in the 20211 NHL Entry Draft.
The other three Petes goal scorers were defensemen Samuel Meyer of L'Original, Ontario and Brian Zanetti, along with left winger Brennan Othmann of Pickering, Ontario. Othmann was the New York Rangers's first round pick, 16th overall, in the 2021 National Hockey League Entry Draft. The Petes meanwhile will now play the Seattle Thunderbirds in the semifinals on Friday night.