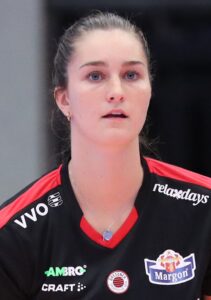 After two losses to Poland and Thailand, Canada has won its first game of the 2023 Women's Volleyball Nations League. On Friday, Canada defeated 25-17, 25-16, 25-18 in Antalya, Turkey.
We are currently seeing the emergence of middle blocker Layne Van Buskirk of Windsor, Ontario. The 25-year-old is emerging as an elite player on the Canadian National Women's Volleyball squad. In the straight set Canadian win, Van Buskirk led Canada with 18 points. Of the 18 points, 13 points were from the attack, and five points were from blocks. A second Canadian reached double digits in points. Alexa Gray of Lethbridge, Alberta had 11 points as she had nine points from the attack, one point from the block and one ace. Gray was one of three Canadians to pick up an ace on Friday, as Hilary Howe of Calgary, Alberta and Andrea Mitrovic of Mississauga, Ontario also had one. Gray, Howe, and Mitrovic are all outside hitters.
Team Canada has one more game in Antalya this weekend. That will be against Serbia on Sunday. Serbia has a record of zero wins and two losses so far as they were beaten 25-20, 19-25, 21-25, 25-21, 15-12 by the United States on Tuesday and 24-26, 25-17, 25-15, 25-21 by Turkey on Thursday. The top seven teams plus the United States qualify for the quarterfinals. Canada is currently in ninth spot.