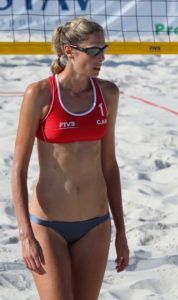 Two Canadian female beach volleyball players–Melissa Humana-Paredes of Toronto, Ontario and Sarah Pavan of Kitchener, Ontario are in their first season as teammates on the FIVB Beach Volleyball World Tour. After having separate partners the last few years (Humana-Paredes was with Taylor Pischke of Winnipeg, Manitoba and Pavan was with Heather Bansley of London, Ontario), there is no doubt that the Pavan and Humana-Paredes partnership has developed instant results in 2017.
This past weekend in Gstaad, Switzerland, Pavan and Humana-Paredes won the bronze medal. They beat the Swiss duo of Joana Heidrich and Anouk Verge-Depre 21-15, 21-12 on their home sand in the process.
The third place finish was the second consecutive medal that Pavan and Humana-Paredes won in a FIVB Beach Volleyball World Tour major event together. On Canada Day, they struck gold by beating Barbora Hermannova and Marketa Slukova of the Czech Republic 32-34, 21-12, 15-6 in the final in Porec, Croatia.
Pavan and Humana-Paredes are also one of three women's teams this year to earn two medals in the major events on the FIVB Beach Volleyball World Tour. They are joined by Larissa Franca and Talita Antunes of Brazil (won gold in Fort Lauderdale and silver in Gstaad), and Germany's Chantal Laboureur and Julia Sude (won gold in Gstaad and bronze in Fort Lauderdale).
Pavan and Bansley represented Canada at the 2016 Olympic Games in Rio de Janeiro. They lost in the quarterfinals to eventual Olympic gold medalists Laura Ludwig and Kira Walkenhorst. Humana-Paredes and Pischke meanwhile finished fourth at the 2015 Pan American Games in Toronto. The great performances in major events by Pavan and Bansley will give them confidence as they prepare for the 2020 Olympic Games in Tokyo.