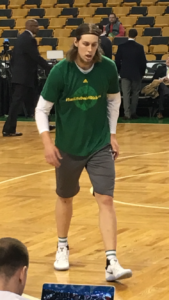 On Thursday, the Miami Heat  signed Canadian center/power forward Kelly Olynyk of Toronto to a four year contract worth $50 million.  The contract will see Olynyk make on average $12.5 million per season.
Now there is no question that Olynyk should be considered an above average basketball player, and when you consider the average salary is $6.89 million, what the Heat paid for Olynyk is about right. Last season with the Boston Celtics, Olynyk averaged nine points per game, but made significant progress once the postseason came around as he had 26 points in a 115-105 Celtics win over the Washington Wizards in game seven of the Eastern Conference semi-finals.
However the question that needs to be raised is should Olynyk be making more money than the best and richest player in the National Hockey League? At first glance, Canadian sports fans would say absolutely not. Connor McDavid is the heart and soul of the Edmonton Oilers, and when he signed his eight year, $100 million contract (which also sees him make $12.5 million), McDavid was actually praised for not signing for more money. There was also instant comparisons made between him and the six Toronto Blue Jays who make more per season.
One needs to understand that basketball is different than hockey. With basketball, you can win with less. The stars have a bigger impact. In hockey, of course superstars are required and what McDavid means to the Oilers cannot go unnoticed. However Oilers general manager Peter Chiarelli has almost twice the number of players under contract as a NBA franchise and needs cooperation from his superstars in order for the team to be successful. The bottom line is that McDavid's worth to the Oilers and the NHL could well exceed $20-$25 million. However, with a salary cap in place, McDavid's financial worth cannot be justifiably equated to his annual salary.