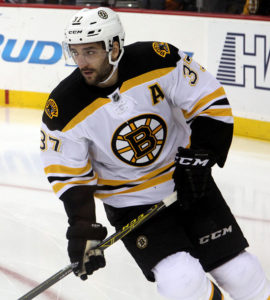 Canadian Olympic gold medalist Patrice Bergeron of Ancienne-Lorette, Quebec, had a marvelous fourth game of the 2019 Eastern Conference Finals of the National Hockey League Stanley Cup Playoffs. The Bruins centre who won a gold medal for Team Canada at the 2010 Olympic Winter Games in Vancouver and the 2014 Olympic Winter Games in Sochi, was one of two Bruins forwards with three points as he had two goals and one assist in a 4-0 Bruins win over the Carolina Hurricanes. With the win, the Bruins swept the Hurricanes four games to none and will now represent the Eastern Conference in the 2019 Stanley Cup Finals.
Bergeron was one of two Canadians on the Bruins with a multi-point game. Brad Marchand of Halifax, Nova Scotia also had one goal and one assist for two points. Bergeron and Marchand's linemate David Pastrnak also had three points as he had one goal and two assists.
Marchand picked up a primary assist on the Bruins game winning goal of the hockey game by Pastrnak at 4:46 of the second period. The goal came at 4:46 of the second period on the power play with Torey Krug picking up the other assist. At the time, the Bruins had a 1-0 lead. The Bruins then went up 2-0 on a power play goal by Bergeron from Pastrnak at 18:34 of the second period. Then in the third period, Bergeron scored from Pastrnak at 10:32 to put the Bruins up 3-0. Marchand then closed out the scoring with an empty net goal from Bergeron and David Krejci at 17:43 of the third period.
Tuukka Rask made 24 saves for the shutout. The Bruins are now awaiting the winner of the St. Louis Blues and San Jose Sharks in the Western Conference Final. The Sharks leads that series two games to one.