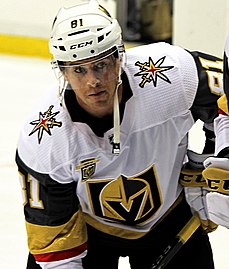 Anthony Mantha of Longueuil, Quebec and Jonathan Marchessault of Quebec City, Quebec led Canada in scoring in their 5-2 win over France on Thursday at the 2019 International Ice Hockey Federation World Men's Hockey Championship in Kosice, Slovakia. Mantha, who plays for the Detroit Red Wings. had two goals, while Marchessault, who plays for the Vegas Golden Knights, notched two assists.
The other Canadian goal scorers were Edmonton Oilers defenseman Darnell Nurse of Hamilton, Ontario, Tampa Bay Lightning centre Anthony Cirelli of Etobicoke, Ontario and Golden Knights right winger Mark Stone of Winnipeg, Manitoba. With the win, Team Canada improved to a record of three wins and one loss.
The win over France however was not easy. The Canadians came out with a solid start as they dominated the first period, outshot France 16-2 and had a 3-0 lead. However it was the French that got the lone second period goal and pulled within one goal at 3-2, before Canada rebuilt their three goal advantage.
Team Canada has three more Group A matches. They play the undefeated Germans (4-0) on Saturday at 8 AM MT, Denmark (2-2) on Monday at noon MT and then the United States (3-1) Tuesday at noon MT.
In Group B action, it seems to be clear who the four teams that will advance to the quarterfinals will be. Russia and Switzerland are undefeated at four wins and zero losses, while Sweden and the Czech Republic are at three wins and one loss.