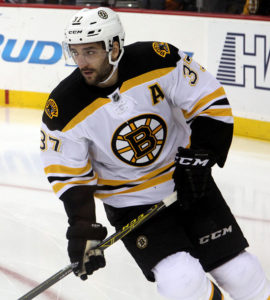 According to Cam Kerry of SB Nation on Wednesday, Canadian Olympic gold medalist Patrice Bergeron of L'Ancienne-Lorette, Quebec has decided to make a significant donation to fight racism in North America. Bergeron, who won a gold medal for Canada at the 2010 Olympic Winter Games in Vancouver, and at the 2014 Olympic Winter Games in Sochi, has agreed to give $25,000 each to the Boston National Association for the Advancement of Colored People Chapter, and the Centre multiethnique de Quebec in Quebec City, Quebec.
Bergeron's generous donations come after the death of African American George Floyd, who was killed by Minneapolis police officer Derek Chauvin during an arrest last week. Video footage shows Chauvin had placed his knee on Floyd's neck for eight minutes. Floyd stated during the incident that he could not breathe. The killing of Floyd has precipitated mass protests throughout the world, and has led to 11000 arrests and 17 subsequent deaths. Floyd's first of three funerals is taking place in Minneapolis on Thursday.
Bergeron is the captain of the Boston Bruins, and rarely uses social media to express his opinions. However, he did put out a statement through the Bruins on Wednesday encouraging people to take "real actions" during this time and is encouraging all parents to raise their children to be anti-racist.
The Bruins were the best team in the National Hockey League at the time of the coronavirus pause. With a record of 44 wins, 14 regulation losses and 12 losses in extra time, they were the only franchise that had reached the century mark in points, as they had 100.