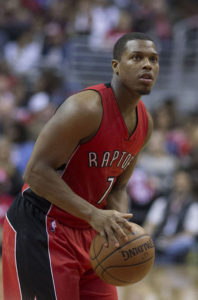 Kyle Lowry of Philadelphia, Pennsylvania broke the Toronto Raptors franchise record for most assists in a career on Tuesday according to the Canadian Press. Lowry recorded 11 assists in a 130-114 win over the Atlanta Hawks at Scotiabank Arena in Toronto, Ontario, and now has 3772 assists as a Toronto Raptor.
Jose Calderon of Villanueva de la Serena, Spain had the old Raptors franchise record for assists in a career. Calderon had 3770 assists with the Raptors from 2005 to 2013.
Lowry broke the Raptors record with an assist on a one foot layup by Terence Davis of Southaven, Mississippi. At the time, the Raptors had taken a 113-86 lead over the Hawks at 4:08 of the fourth quarter.
In the Raptors win over the Hawks on Tuesday, Lowry finished the game with 12 points, 11 assists, eight rebounds and one steal. He was also a magnificent +32 on the court.
Pascal Siakam of Douala, Cameroon and Serge Ibaka of Brazzaville, Congo led the Raptors in scoring on Tuesday with 24 points each. Other Raptors with a multi-point game were Fred VanVleet of Rockford, Illinois (19 points), Davis (15 points) and Marc Gasol of Barcelona, Spain (10 points).
Lowry led the Raptors with 11 assists. Ibaka led the Raptors with 10 rebounds.
The Raptors are second place in the Eastern Conference with a record of 33 wins and 14 losses. They are eight games back of the first place Milwaukee Bucks, who are at 41 wins and six losses.