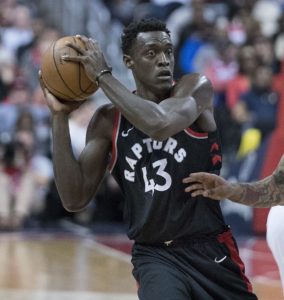 The 2019 National Basketball Association Awards took place on Monday night with a Toronto Raptors power forward being among the winners. At a ceremony at the Barker Hangar in Santa Monica, California, Pascal Siakam was named the NBA's most improved player for 2018-19.
Siakam started 79 of the Raptors 82 games, after only starting five in 2017-18. He saw his points per game statistics improve from 7.3 to 16.9. Siakam also averaged 2.4 more rebounds per game, 1.1 more assists per game and 0.1 more steals per game. He also improved his free throw shooting immensely from .621 to .785, his field goal shooting from .508 to .549 and three point shooting from .220 to .369.
In a year that the Toronto Raptors won their first title in franchise history, Siakam was the only Raptors player honoured with a regular season award, and the first Raptor ever to me named the most improved player. He beat out De'Aaron Fox of the Sacramento Kings and D'Angelo Russell of the Brooklyn Nets.
Other Raptors players to receive notable awards in the history of the franchise include Damon Stoudamire, who was named rookie of the year in 1995-96, Vince Carter, who was named rookie of the year in 1998-99, Lou Williams, who was named best sixth man of the year in 2014-15 and of course Kawhi Leonard, who won the NBA Finals most valuable player award (the Bill Russell Award) in 2018-19. It should be noted that two Raptors coaches have been named coach of the year as Sam Mitchell won the honour in 2006-07 and Dwane Casey received the honour in 2017-18. Bryan Colangelo was also named the NBA executive of the year in 2006-07.
Meanwhile other award winners Monday night in Santa Monica included Giannis Antetokounmpo of the Milwaukee Bucks (most valuable player), Luka Doncic of the Dallas Mavericks (rookie of the year), Rudy Gobert of the Utah Jazz (defensive player of the year), Lou Williams of the Los Angeles Clippers (sixth man of the year), Mike Budenholzer of the Bucks (coach of the year) and Jon Horst of the Bucks (executive of the year). For Williams it was his third sixth man of the year award. His first came with the Raptors and the last two have come over the last two seasons with the Clippers.