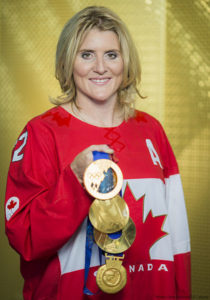 Three Canadians will be inducted into the Hockey Hall of Fame in 2019. In an announcement made on Tuesday, they are four-time Olympic gold medalist Hayley Wickenheiser of Shaunavon, Saskatchewan, Guy Carbonneau of Sept-Iles, Quebec and current Pittsburgh Penguins general manager Jim Rutherford of Beeton, Ontario.
Wickenheiser won the gold medal for Canada in women's hockey at the 2002 Olympic Winter Games in Salt Lake City, the 2006 Olympic Winter Games in Turin, the 2010 Olympic Winter Games in Vancouver and the 2014 Olympic Winter Games in Sochi. She also won a silver medal in women's hockey for Canada at the 1998 Olympic Winter Games in Nagano.At the Olympic Winter Games, Wickenheiser is the all-time leader in goals (18), assists (33) and points (51).
At the Women's World Hockey Championship, Wickenheiser won a remarkable 13 medals (seven gold medals and six silver medals). She is the all-time leader at the Women's World Hockey Championship in assists (49) and points (86).
Carbonneau played 19 seasons with the Montreal Canadiens, Dallas Stars and St. Louis Blues. A three-time Selke Trophy Winner with the Canadiens (1988, 1989, 1992), Carbonneau also won three Stanley Cups. He was with the Canadiens on their championship teams in 1986 and 1993 and was with the Stars in 1999. In 1318 games, Carbonneau had 260 goals and 403 assists for 663 points.
Rutherford was a NHL goaltender, but is being inducted as a builder. He has won three Stanley Cups as a general manager. The first came with the Carolina Hurricanes in 2006, followed by two with the Penguins in 2016 and 2017. Others inducted into the Hockey Hall of Fame are Sergei Zubov of Russia, Vaclav Nedomansky and American hockey coach Jerry York.