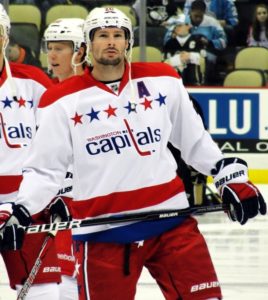 The Florida Panthers have signed Troy Brouwer of Vancouver, British Columbia to a one year contract on Monday. Brouwer will be making $850,000 this season.
A right winger, Brouwer saw his statistics dip the last two seasons with the Calgary Flames. Last season in Calgary, Brouwer only had six goals and 16 assists for 22 points in 76 regular season games. It is fair to say the Flames were expecting a lot more from him when they signed Brouwer to a four year contract worth $18 million on July 1, 2016. Earlier this month the Flames bought out the last two years of Brouwer's contract and made him an unrestricted free agent.
The Panthers will become the fifth team that Brouwer has played for in the National Hockey League. In addition to the Flames, Brouwer has played for the Chicago Blackhawks, St. Louis Blues and Washington Capitals.
In 2013-14 and again in 2014-15, Brouwer recorded a career high in points while with the Capitals. He had 43 points in 2013-14 and again in 2014-15. Brouwer also had a career high 25 goals in 2013-14 and a career high 22 assists in 2014-15.
It would also be fair to say that the Capitals won the trade with the Blues when they acquired T.J. Oshie for Brouwer, a prospect and a third round draft pick on July 2, 2015. Oshie had 21 points in 24 playoff games for Washington in 2018 and was a dynamic force on the ice as the Capitals won their first Stanley Cup in franchise history.