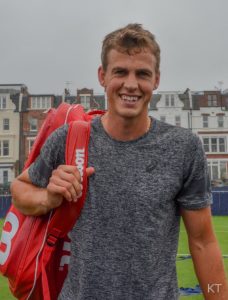 It was a fantastic performance for Vasek Pospisil of Vernon, British Columbia on day one of the 2018 U.S. Open on Monday. Pospisil was dominant in a straight set 7-5, 6-3, 6-2 win over Lukas Lacko of Slovakia in the first round.
If you look at the rankings, Pospisil's win could be considered a minor upset. He is ranked 88th in the world, while Lacko is ranked 77th. It was also Pospisil's first victory at a major in 2018. It was also only Pospisil's fifth win on the ATP Tour this year. He previously beat Ivo Karlovic of Croatia 7-6, 7-6 and Andrey Rublev of Russia 7-6, 6-4 to reach the third round at the Miami Open, and Donald Young of the United States 7-6, 6-1 and Mischa Zverev of Germany 4-6, 6-3, 7-5 when he reached the third round at the Dell Technologies Hall of Fame Open in Newport. Rhode Island.
It was also Pospisil's first win at a major since beating Jozef Kovalik of Slovakia 6-1, 6-3, 6-3 in the first round of the 2016 U.S. Open. Pospisil's only other win at the U.S. Open when he beat Lukas Rosol of the Czech Republic 6-1, 6-2, 6-1 in the first round in 2011.
Making it to the third round in 2018 will be a monumental task for Pospisil. That is because he has the defending champion, French Open champion and no. 1 seed, Rafael Nadal of Spain in the second round. Nadal beat David Ferrer of Spain 6-3, 3-4 in round one as Ferrer needed to retire in the second set with a foot injury.
Meanwhile, Denis Shapovalov of Toronto, Ontario (the 28th seed) defeated Felix Auger-Aliassime of Montreal, Quebec 7-5, 5-7, 4-1 as Auger-Aliassime needed to retire with a serious heart ailment. Shapovalov will next play Andreas Seppi of Italy in round two.
Meanwhile, Milos Raonic of Thornhill, Ontario (the 25th seed) defeated Carlos Berlocq of Argentina 7-6, 6-4, 1-6, 6-3 in the first round. Despite 45 unforced errors and 16 double faults, Raonic was victorious. He will need to play a lot cleaner to get by Gilles Simon of France in round two.