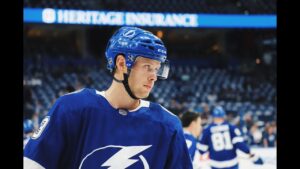 The Florida Panthers signed centre Carter Verhaeghe of Toronto, Ontario from the Stanley Cup champion Tampa Bay Lightning on Friday. The acquisition of Verhaeghe is an interesting one when you consider the fact that he was only a rookie this past season. According to Todd Little of SB Nation, Verhaeghe signed a two-year contract worth $2 million.
In 52 games, Verhaeghe had nine goals and four assists for 13 points. He was a -9 with eight penalty minutes, one power play goal, one game winning goal, 57 shots on goal, 14 faceoff wins, eight blocked shots, 29 hits, 19 takeaways and 11 giveaways in 2019-20.
Verhaeghe, who had two assists in eight playoff games for the Lightning, also had a hat trick with Tampa Bay this past season. He scored thrice in a 9-2 Lightning victory over the Vancouver Canucks on January 7. It was the seven-goal Tampa Bay win that Verhaeghe also scored his lone power play goal. Verhaeghe's game winning goal came in a 3-1 Tampa Bay win over the New York Islanders on February 8.
It is interesting that the Lightning decided to re-sign Patrick Maroon to a two year deal worth $1.8 million, and decide to see Verhaeghe leave to their interstate rival. Maroon is seven years older than Verhaeghe, but did have 10 more points than Verhaeghe had last season. In addition to signing Verhaeghe, the Florida Panthers came to terms with centre Alexander Wennberg from the Columbus Blue Jackets and defenseman Radko Gudas from the Florida Panthers.