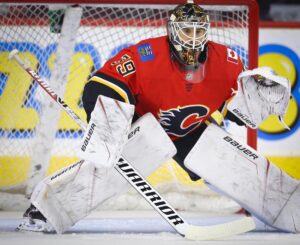 The Minnesota Wild have signed Cam Talbot of Caledonia, Ontario to a three-year contract worth $11 million according to Rogers Sportsnet on Friday. Talbot now appears to be in a goaltending tandem with Alex Stalock, however surprisingly Wild General Manager Bill Guerin has already stated that Talbot will be the Wild number one goalie next season.
Talbot played this past season with the Calgary Flames. In 26 regular season games in Calgary in 2019-20, he had a record of 12 wins, 10 regulation losses, an overtime loss, with two shutouts, a goals against average of 2.63, and a save percentage of .919.
Talbot was simply masterful in the two shutouts he had for the Flames during the regular season. On February 13, he had 44 saves in a dominant 6-0 Calgary win in Anaheim, a city the Flames have always struggled in. Then, Talbot had 38 saves in a 3-0 Calgary win in Florida on March 1.
The Wild will be Talbot's fifth National Hockey League team. In addition to the Flames, he has played with the New York Rangers, Edmonton Oilers, and Philadelphia Flyers. Talbot led the National Hockey League in regular season wins with 42 while with the Oilers in 2016-17.
The Wild acquisition of Talbot continues the NHL goalie carousel in the offseason. Minnesota already traded Devan Dubnyk to San Jose, while the Flames acquired Jacob Markstrom from Vancouver.