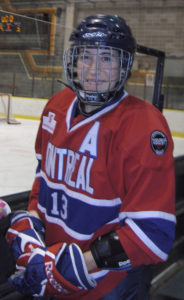 Canadian Olympic gold medalist Caroline Ouellette of Montreal, Quebec retired from women's hockey on Tuesday at age 39. Ouellette was instrumental in Canada's gold medals in women's hockey at the 2002 Olympic Winter Games in Salt Lake City, the 2006 Olympic Winter Games in Turin, the 2010 Olympic Winter Games in Vancouver and the 2014 Olympic Winter Games in Sochi.
Recognized by many as a power forward, Ouellette had nine goals and 17 assists for 26 points in 20 games representing Canada at the Olympic Winter Games. She also was a +31 with 14 penalty minutes.
In addition to winning four gold medals at the Olympic Winter Games, Ouellette won six gold medals at the Women's World Hockey Championship. They came in 1999 in Espoo, Finland, in 2000 in Mississauga, Ontario, Canada, in 2001 in Minneapolis, Minnesota, in 2004 in Halifax, Nova Scotia, in 2007 in Winnipeg, Manitoba, and in 2012 in Burlington, Vermont. Ouellette also won six silver medals for Canada at the Women's World Hockey Championship.
Ouellette played last season with the Montreal Canadiennes of the Canadian Women's Hockey League. She had one goal and four assists for five points in six games. At the CWHL level, Ouellette holds the record for the most Clarkson Cups with four. She won with the Montreal Stars in 2009, 2011 and 2012 and with the Canadiennes in 2017. Ouellette also became the first CWHL player to reach 300 points and finished her career with 131 goals and 183 assists for 314 points. At the American university level, Ouellette won a NCAA Women's Hockey Championship with the the University of Minnesota-Duluth in 2003.