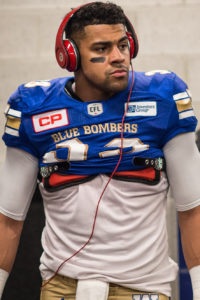 Andrew Harris of Winnipeg, Manitoba is continuing his fine season as a running back for the Winnipeg Blue Bombers of the Canadian Football League. On Saturday, Harris had 73 yards rushing and 24 yards receiving in Winnipeg's 30-3 hammering over the Edmonton Eskimos at Commonwealth Stadium in Edmonton, Alberta.
Harris's touchdown came at 13:26 of the second quarter. It was a five yard touchdown run that helped Winnipeg up 17-0 at the time.
Harris is now second in the Canadian Football League in rushing with 1101 yards. Only William Powell of the Ottawa Redblacks has more rushing yards than Harris as he has 1141 yards. Harris led the CFL in rushing yards in 2017, as he had 1035 rushing yards. Ironically with four games left to complete the 2018 CFL regular season, Harris has 66 more yards in 2018 than he did in 2017.
Another Canadian had an offensive touchdown during week 16. Juwan Brescacin of Mississauga, Ontario had an eight yard touchdown catch in the Calgary Stampeders' 38-16 win over the Toronto Argonauts at McMahon Stadium in Calgary on Friday. Brescacin's touchdown came at 6:58 of the fourth quarter and helped put Calgary up 38-10 at the time. Brescacin finished the game for five catches and 64 yards.
In other week 16 action, the Saskatchewan Roughriders beat the Montreal Alouettes 34-29 and the Hamilton Tiger-Cats trounced the British Columbia Lions 40-10. The battle for a possible three more playoff spots in the Western Division is heating up with six points separating the Roughriders (9-5), Blue Bombers (7-7), Eskimos (7-7) and Lions (6-7).