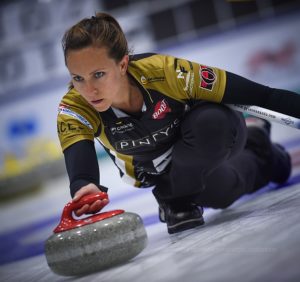 It might not have been the best of performances on Saturday, for Ottawa's Rachel Homan, but it was good enough to get the job done. Heading into the final day of the Championship Pool at the 2021 Scotties Tournament of Hearts in Calgary, Homan, who is eight months pregnant, was at nine wins and one loss. After getting a smackdown by 2014 Canadian Olympic gold medalist Jennifer Jones of Winnipeg Saturday afternoon in a 9-1 loss, Homan bounced back Saturday night with a key 7-2 win over Saskatchewan.
Due to the fact Jones's Manitoba team won her second game of the day on Saturday night by beating Team Canada's Kerri Einarson of Gimli, Manitoba, Einarson fell back to a first-place tie with Homan at 10 wins and two losses. Homan gets the tiebreaker over Einarson due to the fact she beat Team Canada 7-4 in Draw 17. That was the final draw of Pool A play.
Jones meanwhile will play Alberta's Laura Walker of Edmonton in the Sunday morning third-place tie-breaker. Both teams have a record of nine wins and three losses. The winner of the tiebreaker will play Einarson in the semifinal, with the winner playing Homan in Sunday night's final.
Meanwhile one of our readers on canadiansportscene.com asked earlier in the tournament how the pools were determined at the beginning of the Scotties. After contacting Al Cameron, the Director of Communications and Media Relations of Curling Canada, the teams within the groups were determined based on the Canadian Team Ranking System Points in 2019-20.