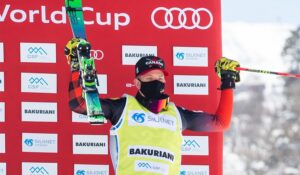 Jared Schmidt of Ottawa, Ontario won his first World Cup medal of his career on Saturday at a World Cup men's skicross event in Bakuriani, Georgia. Schmidt placed behind gold medalist Florian Wilmsmann of Germany, and silver medalist David Mobaerg of Sweden.
Schmidt performed extremely consistently. He won the sixth qualification heat, and then placed second behind Canadian Olympic gold medalist Brady Leman in the third quarterfinal heat and then the second semifinal heat. Leman, who finished fourth overall in Bakuriani, won the gold medal in men's skicross at the 2018 Olympic Winter Games in Pyeongchang.
The fact that Schmidt landed on the podium was a significant surprise, given the fact he is only 31st in the World Cup men's ski cross standings. His previous best performance this season was a 29th place in Idre Fjall, Sweden on January 23. In fact, Schmidt placed outside the top 40 in six of the nine men's ski cross races in 2021.
Even though it was a poor showing for Reece Howden of Cultus Lake, British Columbia, as he finished 19th, it was good enough for him to win the World Cup men's skicross title for 2020-21. Howden currently has 562 points. That is 215 more points than Jonas Lenherr of Switzerland, who is in second with 347 points.
There are two more men's ski cross World Cup events this season. Sunny Valley, Russia will be the host city on March 13, and Veysonnaz, Switzerland will be the host city on March 21. The bronze medal for Schmidt will give him confidence as he tries to make a very strong Canadian men's ski cross team for the 2022 Olympic Winter Games in Beijing.