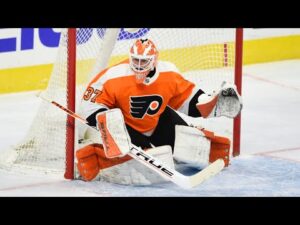 Brian Elliott of Newmarket, Ontario must love playing the Buffalo Sabres. For the second time this season the Flyers netminder blanked the Sabres as Elliott recorded his 42nd career shutout for a 3-0 win.
Eliott made six saves in the first period, eight saves in the second period, and nine saves in the third period for 23 saves overall. Four Sabres led the team in shots on goal with three each. They were Cody Eakin of Winnipeg, Manitoba, Brandon Montour of Brantford, Ontario, Jacob Bryson of London, Ontario, and Kyle Okposo.
Offensively for the Flyers on Saturday, they were led in scoring by reigning Selke Trophy winner Sean Couturier of Bathurst, New Brunswick. Couturier had one goal and one assist for two points. The Flyers also got goals from Scott Laughton of Oakville, Ontario, and Shayne Gostisbehere.
On the season, Elliott has a record of five wins, one loss, a stingy goals against average of 2.03, and a save percentage of .931. He is playing at the same level as he was back in 2011-12 with the St. Louis Blues when he won the William M. Jennings Trophy, and led the NHL in save percentage (.940), and had the lowest goals against average (1.56).
Elliott's prior shutout this season against the Sabres came on January 19 in a 3-0 Flyers win. On the season, Philadelphia is in fourth place in the East Division with 10 wins, four regulation losses, and three losses in extra time for 23 points.