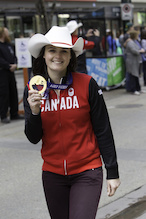 In my second of ten interviews of high performance Canadian athletes who are expected to contend for a medal at the 2018 Olympic Winter Games in Pyeongchang, it is a privilege to share my interview with reigning Canadian Olympic gold medalist Marielle Thompson of Vancouver, British Columbia. At the 2014 Olympic Winter Games in Sochi, Thompson became the second straight Canadian to win a gold medal in women's ski cross at the Olympic Winter Games as she followed in the footsteps of Ashleigh McIvor of Vancouver, who won the gold medal at the 2010 Olympic Winter Games in Vancouver. Thompson enters Pyeongchang as a serious gold medal contender as she won the 2016-17 Crystal Globe Title and seven World Cup victories in women's ski cross this past year.
Q: Take me back four years ago in Sochi. What do you remember most about the Big Final?
A: "Right out of the gate I knew I was right in the race. Then there was a really big feature that you really had to make a big press over and when I went over I thought, 'wow'. That was the best one (jump) that I did all day. It was an awesome time to do it.
Heading into the first turn, it was super tight. That was very significant because everyone was right there. Kelsey Serwa called to say she was on the inside. I gave her a little bit (of room) so she wouldn't get taken out or anything.
The biggest moment was when I was going over the final jump and I was in the air. I thought, 'holy cow. I won the Olympics.' Then I realized I needed to refocus and cross the finish line. That is when you win. I said 'calm down' to myself internally. The moment I crossed the line and it was over, I thought, 'wow.' It was pretty indescribable, that final."
Q: Some ski cross racers retire after winning gold. Why did you stay on for another Olympic cycle?
A: "I don't think retirement was a thought. Considering my age (21 years old at the time of the Olympics) and where I was in the sport then (best in the world), I really thought I could keep going and keep improving—myself and the sport.  Retirement wasn't really in the cards for me. I still thought I had a lot left in me and I still think that."
Q:  You are entering the 2018 Olympic Winter Games in Pyeongchang as a favourite, just like you were prior to Sochi. How difficult is it to be the athlete others are trying to catch?
A: "I think I've been in that position for a while now—as the leader and being in the chased position. I know everyone is always watching me and everyone is trying to push themselves to beat me. I think I have experience with it now and it only motivates me further.
I have to push myself that much further and be that much better, and prove that much more to stay on that level or stay ahead. It is good motivation to keep me going."
Q: You have the opportunity to be the very first two-time Olympic gold medalist in women's ski cross. How excited are you about that opportunity?
A: "I am excited to (get another chance to) go to another Olympics but I am trying not to put that thought in my head. It is going to be a totally new experience, a different place and a different environment. I am going to go in there, like I do every race, and try to figure out the course and figure out what I need to do to do well there."
Q: Even though ski cross is still in its infancy on the Olympic stage, Canada has had great success. What can you tell me about Ashleigh McIvor and Kelsey Serwa, and what have you learned from them over the years?
A: "I think Ashleigh really had a big impact on my career initially. She is from the same small town as me. Having watched her from the 2010 Olympics on TV and knowing Ashleigh, it was like, 'if someone from the town of Whistler can go and win the Olympics, maybe I can do that someday.' Having made the team after that and then competing at the same level as these awesome teammates of mine, it really helped me because I was able to chase them, and to rise up to the World Cup level. Having great role models were instrumental in the beginning of my career."
Q: What did you learn specifically from Kelsey Serwa?
A: "I think Kelsey has definitely shown a lot of resiliency and dedication. Having overcome so many injuries and staying with it and staying motivated, definitely shows a lot of character."
Q: At the 2017 World Championships, you lost in the semi-finals in an upset. What did you learn from that heat and what can you tell me about how competitive the elite ski cross racers in the world are?
A: "If I don't do as well as I think I should or as I know I can, it really motivates me to be better. From that heat, I went on to handily win the small final because I was so determined to never let that happen again. I wanted to finish the World Championships strong. With the semi-final loss, I was able to really push myself that much further in the following heat and finish the season on a strong note."
Q: What are your goals during the 2017-18 ski cross season?
A: "I don't think my goals have really changed the last few seasons. I plan to stay on top and keep pushing myself. I think I still have room to grow and to better myself athletically. I hope to start off the World Cup season strong and have momentum heading into Korea."