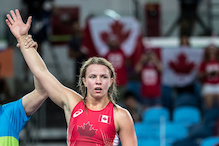 There is no doubt that the Coronavirus is taking its toll on the sporting world and many events have been cancelled. However despite the world pandemic, there are two sporting events that will continue to take place in Canada as originally scheduled. In the first of a two part series, we will take a look at the 2020 Pan American Olympic Wrestling Olympic Qualification Tournament.
The Pan American Olympic Wrestling Qualification Tournament is taking place in Ottawa, Ontario with limited family members and essential support staff in attendance. The countries with a wrestler that wins their semifinal match in each weight class will earn a qualification spot for the 2020 Olympic Games in Tokyo.
Competitions in the men's 60 kilogram, 67 kilogram, 77 kilogram, 87 kilogram, 97 kilogram and 130 kilogram weight classes of Greco-Roman wrestling took place on Friday. No Canadians qualified.
On Saturday, women's freestyle wrestling will take place. There will be competitions in the women's 50 kilogram weight class, 53 kilogram weight class, 57 kilogram weight class, 62 kilogram weight class, 68 kilogram weight class and 76 kilogram weight class. On Sunday, there will be numerous men's freestyle wrestling competitions in the weight classes of 57 kilograms, 65 kilograms, 74 kilograms, 86 kilograms, 97 kilograms and 125 kilograms.
Among the Canadians participating include 2012 World Women's Wrestling Championship gold medalist Jessica MacDonald of Windsor, Ontario (50 kilograms in Ottawa/51 kilograms at World Championship), Samantha Stewart of London, Ontario (53 kilograms), 2019 World Women's Wrestling Championship gold medalist Linda Morais of Tecumseh, Ontario (57 kilograms in Ottawa/59 kilograms at World Championship), 2017 World Women's Wrestling Championship bronze medalist Michelle Fazzari of Hamilton, Ontario (62 kilograms in Ottawa/58 kilograms at World Championship), 2018 World Women's Wrestling Championship silver medalist Danielle Lappage of Olds, Alberta (68 kilograms in Ottawa/65 kilograms at World Championship) and Canadian Olympic gold medalist Erica Wiebe of Stittsville, Ontario. Wiebe, who will be competing in the women's 76 kilogram weight class in Ottawa, won a gold medal in the women's 75 kilogram weight class at the 2016 Olympic Games in Rio de Janeiro.