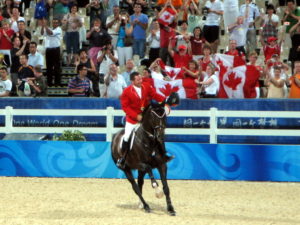 Wow. On Thursday, among the sporting events in Canada that were cancelled due to the Coronavirus were the Women's World Curling Championships in Prince George, British Columbia, the World Cup cross country skiing events in Quebec City, Quebec and Canmore, Alberta, the University Cup (the Canadian University Men's Hockey Championship) in Halifax, Nova Scotia, the Canadian University Women's Hockey Championship in Charlottetown, Prince Edward Island, the Canadian University Men's Volleyball Championship in Winnipeg, Manitoba, the Canadian University Women's Volleyball Championship in Calgary, Alberta, the Canadian Mixed Doubles Curling Championship and Canadian Seniors Curling Championship in Portage La Prairie, Manitoba, and the Arctic Winter Games in Whitehorse, Yukon.
Meanwhile, the National Hockey League, National Lacrosse League, Canadian Hockey League, and Major League Soccer have all paused play. Major League Baseball, which was to start on March 26, has now been delayed two weeks.
On the global scale, there will be no more tennis for six weeks, golf for a month, while March Madness (the National Collegiate Athletic Association men's and women's basketball tournaments) and Dutch Masters Equestrian competition, featuring Canadian Olympic gold medalist Eric Lamaze of Montreal, Quebec, have been cancelled. Meanwhile, the Boston Marathon, which has a rich history of Canadian success, will not take place until September 14. While the 2020 Americas Olympic baseball qualification tournament (featuring Team Canada) in Surprise and Tempe, Arizona has been postponed.