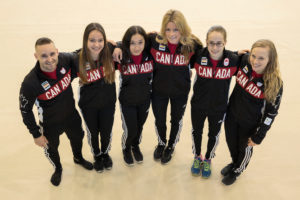 Shallon Olsen of Vancouver, British Columbia won the silver medal for Canada in women's vault at the 2018 World Gymnastics Championships in Doha, Qatar on Friday. It has been an outstanding year for Olsen, who won the gold medal in the women's vault and women's team competition at the 2018 Commonwealth Games in Gold Coast, Australia this past April.
What is the most remarkable statistic of Olsen's rising success in the women's vault is her age. She is only 18 years old and could represent Canada at not only the 2020 Olympic Games in Tokyo, but the 2024 Olympic Games in Paris as well.
Olsen posted a score of 14.516 points. Four-time Olympic gold medalist and 13-time world championship gold medalist Simone Biles of the United States won the gold medal with a score of 15.366 points. Alexa Moreno of Mexico won the bronze medal with a score of 14.508 points to cap off the impressive North American sweep.
Olsen reached the podium by 0.216 points. Oksana Chusovitina of Uzbekistan finished in fourth place with a score of 14.3 points. What is mind boggling about Chusovitina is that she is 43 years old.
Three more Canadians have reached the individual apparatus finals on Saturday. Ana Padurariu of Bracebridge, Ontario and Ellie Black of Halifax, Nova Scotia are both in the women's balance beam final, while Brooklyn Moors of Cambridge, Ontario is in the women's floor final.