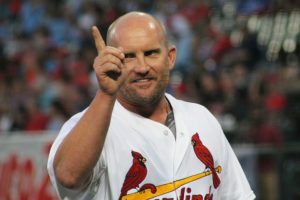 The St. Louis Cardinals of Major League Baseball named Stubby Clapp of Windsor, Ontario their third base coach for the 2019 Major League Baseball regular season on Saturday. Clapp has had great success the last two years as the manager of the Memphis Redbirds of the Pacific Coast League. He has won the PCL Title in each of the last two years, beating the El Paso Chihuahuas in 2017 and the Fresno Grizzlies in 2018. Clapp was also named the PCL Manager of the Year in 2017.
Clapp takes over from Jose Oquendo as the third base coach. Oquendo who will remain the Cardinals' special assistant to general manager Michael Girsch.
As a player, Clapp had a very notable history with the Canadian national team. At the 1999 Pan American Games in Winnipeg, Clapp had the game winning run batted in as Canada beat the United States 7-6 in 11 innings, in what is considered as one Canada's greatest baseball moments ever. Clapp also represented Canada at the 2004 Olympic Games in Athens and the 2006 World Baseball Classic.
Clapp, a second baseman, would also play one Major League Baseball season with the Cardinals in 2001. In 23 games (25 at bats), he batted .200 with zero home runs, one run batted in, five hits, two doubles, one walk, seven strikeouts, a slugging percentage of .280 and an on base percentage of .231.
There is no doubt that the Cardinals have a bright future. They finished the year at 88 wins and 74 losses and only three games back of the Colorado Rockies for the final wildcard spot in the National League. The Cardinals turned their season around when Mike Schildt was named manager on July 15. Prior to Schildt, the Cardinals had a record of 48 wins and 46 losses. With Schildt at the helm, they had a record of 40 wins and 28 losses.