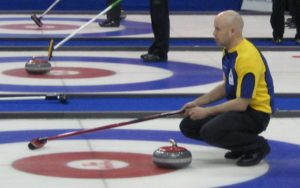 Kevin Koe of Calgary, Alberta is off to a great start at the 2019 World Men's Curling Championship in Lethbridge, Alberta. In representing Team Canada, Koe's team of third B.J. Neufeld, second Colton Flasch and lead Ben Hebert, have won their first four round robin games.
On Saturday, Canada beat South Korea 6-5 and Russia 11-3. Then on Sunday, Canada beat Italy 9-5 and China 8-6. After Calgary's Chelsea Carey struggled mightily with consistency at the 2019 Women's World Curling Championship in Silkeborg, Denmark last month, the fact that Koe got off to a strong start with four victories in Lethbridge was very significant.
One area where Koe may need to improve however is with his draws. He seems to be a lot more comfortable at the moment playing the takeout game. One may not recognize that too much so far because of the fact that Canada has had a rather easier schedule. However as the tournament progresses, Canada will see stiffer competition, and Koe will need to be strong in all assets as a skip.
At the moment, there are four teams undefeated. Canada is joined by Japan, Sweden and Switzerland, who are all at three wins and zero losses. Sweden's Niklas Edin is the reigning world champion and Olympic silver medalist from the 2018 Olympic Winter Games in Pyeongchang, while Switzerland's Peter de Cruz is the reigning Olympic bronze medalist.