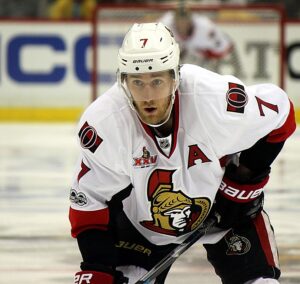 The Edmonton Oilers added depth to their center position on Friday by signing Kyle Turris of New Westminster, British Columbia from the Nashville Predators to a two year contract worth $3.3 million according to Chris Johnston of Rogers Sportsnet. The Oilers become Turris's fourth National Hockey League team. In addition to playing for the Predators, Turris has played for the Phoenix Coyotes and Ottawa Senators.
In 2019-20, Turris had nine goals and 22 assists for 31 points in 62 games. He was a -9 with 22 penalty minutes, 10 power play points, four game winning goals, 88 shots on goal, 246 faceoff wins, 25 blocked shots, 18 hits, 21 takeaways and 29 giveaways.
The Oilers will also hope Turris rebounds from a poor performance in Edmonton during the Stanley Cup Playoff qualifier this past season. In four games against the Arizona Coyotes, Turris did not register a single point, as he was a -4. There is also some concern that Turris does not kill penalties even though he will be slated into a checking-line role as a centerman for the Oilers next season.
Edmonton also re-signed Tyler Ennis to a one year deal on Friday. Ennis, a native of Edmonton, was an unrestricted free agent. The left winger joined the Oilers from the Senators at the trade deadline last year and had 37 points in 70 games during the 2019-20 season.