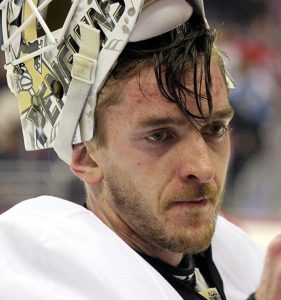 Matt Murray of Thunder Bay, Ontario has been traded from the Pittsburgh Penguins to the Ottawa Senators. In a deal that was announced on Wednesday. Murray was moved on the second day of the National Hockey League Entry Draft for a second round draft pick in the 2020 draft, and prospect Jonathan Gruden according to the Associated Press. 
With the Penguins also having Tristan Jarry of Surrey, British Columbia on the roster, there is no doubt that Murray became expendable. In 2019-20, Murray had a record of 20 wins, 11 regulation losses and five losses in extra time. He also had one shutout, a goals against average of 2.87 and a save percentage of .899. Murray's shutout came in a 3-0 win over the Dallas Stars on October 26.
Murray did not play at the same level he has played in previous seasons in 2019-20. His save percentage was the lowest in his NHL career this season, as it dipped under .900 for the first time in his five year career. Then in the qualifying round for the 2020 Stanley Cup Playoffs, Murray was clearly outplayed by Carey Price and the Montreal Canadiens, as Montreal won in four games.
It should be noted that Murray does have two Stanley Cup titles on his resume. He was part of the Penguins team that won the 2016 Stanley Cup over the San Jose Sharks and the 2017 Stanley Cup over the Nashville Predators.
Gruden played in the Ontario Hockey League last season and had 30 goals and 36 assists for 66 points for the London Knights. With the 52nd pick from the Senators, the Penguins selected Finnish goaltender Joel Blomqvist.