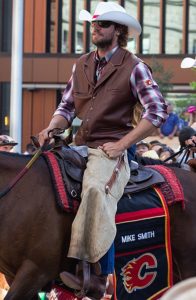 In a very interesting signing on Monday, the Edmonton Oilers have signed Canadian Olympic gold medalist Mike Smith of Kingston, Ontario to a one year contract worth $2 million. It is expected that Smith, who won a gold medal for Canada in men's hockey at the 2014 Olympic Winter Games in Sochi, will share goaltending duties in Edmonton this season with Mikko Koskinen.
Smith played 42 games last season with the Calgary Flames, as he shared goaltending duties with David Rittich. He had a record of 23 wins, 16 regulation losses, two losses in extra time, a goals against average of 2.72, a save percentage of .898 and two shutouts.
In the 2019 Stanley Cup Playoffs, Smith was spectacular in the Flames first postseason game, a 4-0 Calgary win over the Colorado Avalanche in which he made 26 saves for his fourth postseason shutout. Then the wheels completely fell off for Smith and the Flames defense. In the next four games, Smith gave up 17 goals on 179 shots as Calgary lost their first round series.
Now even the Oilers defense normally does not give up that many shots in a four game period, Oilers fans must be a little considered of Smith's complete inconsistency throughout the entire 2018-19 NHL season (regular season and playoffs) while with the Flames.
The Oilers become Smith's fifth National Hockey League team. In addition to the Flames, Smith has played for the Dallas Stars, Tampa Bay Lightning and Arizona Coyotes. His best season came in 2011-2012 with the Coyotes when he went fourth in Vezina Trophy voting. He had a record of 38 wins, 18 regulation losses, 10 losses in extra time, a career high eight shutouts, a goals against average of 2.21 and a save percentage of .930.
To replace Smith, the Flames signed goaltender Cam Talbot of Caledonia, Ontario. Talbot was even worse last year than Smith as he had a record of 11 wins, 17 regulation losses, three losses in extra time, one shutout, a goals against average of 3.40 and a save percentage of .892 in 35 games with the Oilers and Philadelphia Flyers. Talbot is expected to share time in Calgary this season with Rittich.
The Flames become Talbot's fourth NHL team. He has also played with the New York Rangers. The Flames will be hoping Talbot returns to his 2017 self where he led the NHL with 42 wins and was fourth in Vezina Trophy voting while with Edmonton.